The course of woodcarving
How to learn woodcarving
To learn woodcarving : 5 days of training. To learn the techniques of wood carving, to deepen the art of wood carving : Consult the program "Woodcarving trainings" Perhaps this visit will wake up the sculptor who sleeps in yourself ! Maybe you will desire to go further and to experiment a course of woodcarving ! To this end, it's very easy ! To learn about woodcarving and the technics of sculpture... To know about the different stages in woodcarving... it is very easy ! The sculptor runs a regular woodcarving course for all levels, even real beginners. The teaching of this course of woodcarving is progressive and adapted to each person...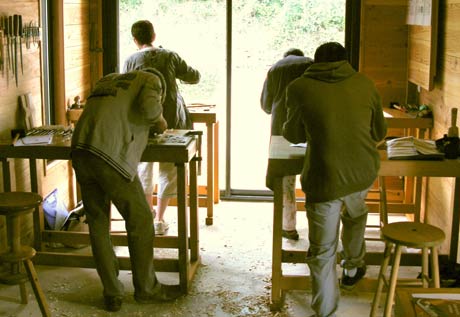 Tools, gouges for woodcarving
You will find in another chapter all the resources to start carving : toolsof the woodcarver's workshop, clamps and presses, hammers and mallets, sharpening, wood for carving, and of course the gouges for woodcarving,
Tetramorph
This book represents a well-informed and thorough investigation in the footsteps of Four Living Creatures, also called The Tetramorph. Extracts and photographs of the book by Philippe Péneaud are also presented in these pages.
"This study examines in depth a topic rich and suggestive. It was conducted in a spirit and in a way that are dear to me because it seems suited for modern research in the field of Christian iconology. To the delight of the reader, this book, is written in a clear and precise theological language, far from any nebulae and falsely "mystical" formulations ... However, the book does not lack poetic passages, gently lit - even illuminated - by the faith of the author ... The author demonstrates the continuity of the theophanic meaning of the representation of the four living creatures and its omnipresence in all the different iconographic traditions of the Christian world ... "
To order online :